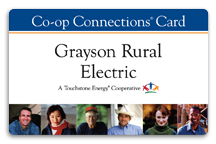 Grayson Rural Electric is excited to provide the Co-op Connections Card program to our members.  This program allows you to obtain discounts in our local area and nationwide. Just look for the Touchstone Energy Co-op Connections Card sticker at retailers, restaurants, and hotels as you travel.
The Co-op Connections Card can save you money at the pharmacy too. With over 48,000 nationwide pharmacies participating, you can save 10 to 60 percent on some prescriptions. To get a price for your prescription, visit www.rxpricequotes.com, or to find a participating pharmacy, visit www.locateproviders.com.
To see the most current list of participating businesses click the card or visit https://www.connections.coop/323-landing.aspx
---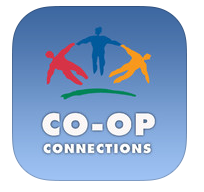 You can also download the Co-op Connections Card app to your smart phone and have the most current list of discounts always at your fingertips.
If you are a business and would like to share your discount with Grayson RECC members please contact Kim Bush at kim.bush@graysonrecc.com. 
Please use this link to fill out a form if you need a new card.